Ecuador Trips & Educational Tours
Ecuador: Diverse Cultures & Epic Wildlife
Ecuador's mix of cultural diversity with unique natural wonders and wildlife is barely believable. Lying on the equator, this majestic land boasts more diverse species, per square mile, than anywhere else on earth. Clay-licking parrots swoon among the 15,000 bird species at Yusomi Amazonian National Park, condors circle the cloud-shrouded Andean Highlands and migrating humpback whales breach along the Pacific coastline. On the Galapagos Islands, travelers get close to species seen nowhere else on earth: the marine iguana, Galapagos sea lion and, of course, the emblematic giant tortoise. Coupled with these adrenaline trips, bubbles a melting pot of ethnic communities maintaining their unique cultures in charming colonial towns and mountain-side villages.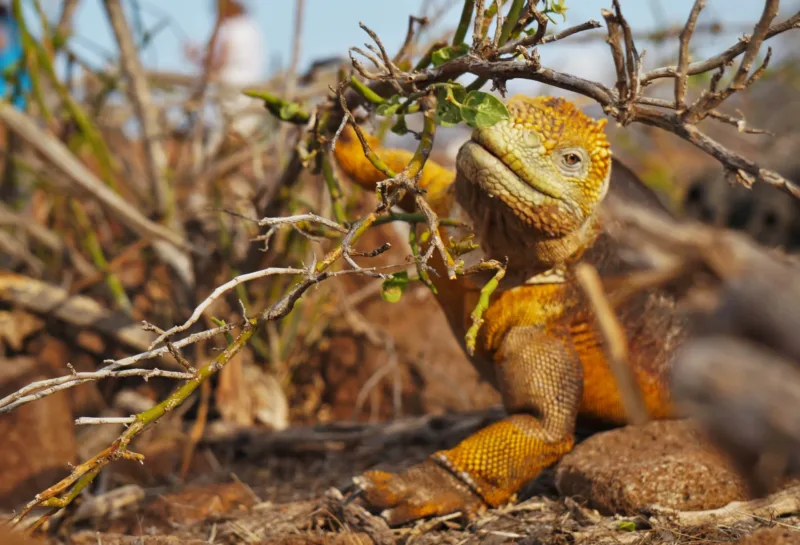 Popular student trips in Ecuador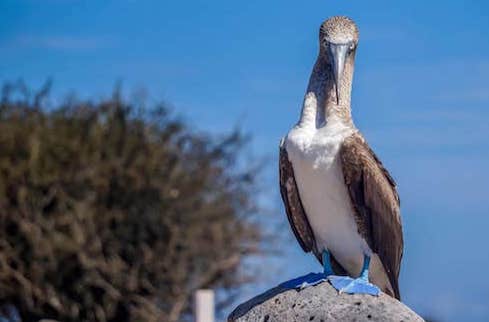 Environmental Science: the Galapagos
Explore the world's most sought-after destinations for scientists and wildlife fanatics.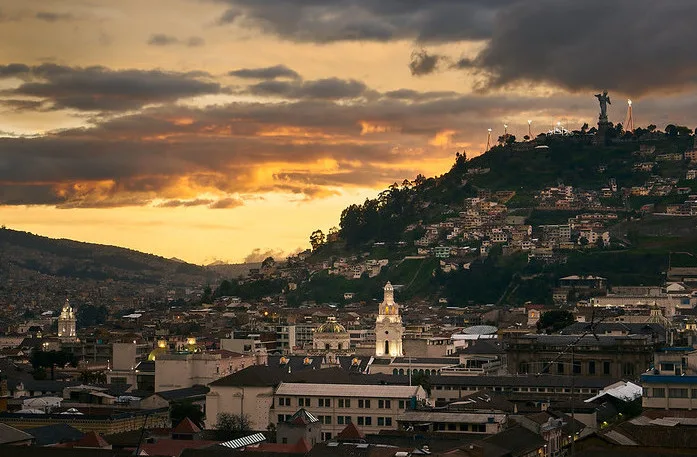 Spanish Immersion: Quito & Baños
Discover Quito's intreguing history, immerse into Andean cultures and explore Baños epic forests.
Quick details about Ecuador
Ecuador's 17.8 million population consists of a varied ethnic blend of cultures with the 71% majority mestizos. The country hosts 27 indigenous groups, speaking 15 to 17 different languages, most of them deriving from Kichwa.  Although many take part in community tourism initiatives, Ecuadorians remain committed to maintaining their unique customs and lifestyle.
Language: Spanish.
Currency: US dollar
Voltage: 120V supply voltage and 60Hz.
Festivals & celebrations
Ecuador has more festivals than days in the year – over 400. One of the most celebrated is La Mama Negra – a festival commemorating the Virgin of Mercy's savior of Latacunga from a volcanic eruption in 1742. In September, and again in the first week of November, the streets of this small town pound to the beat of drums, trumpets and trombones from the various parades…Though, the sight of a black-faced virgin and vivaciously-dressed transvestites, may live longer in the memory. As most Ecuadorians follow Catholicism, they hold an important festival around Easter. Carnival prepares devout believers for 40 days of fasting with an almighty blowout. If you are walking outside, expect to be covered in eggs, soap and foam. Along with the December festivities, Quito explodes into action for the Fiestas de Quito. Open-air stages sprout up around the historical old town, while parades, street dancers and bullfights, without killing the animal, celebrate the founding of this intoxicating city.
7 must do activities in Ecuador
Hike the Cotopaxi volcano.
See the marine iguana on the Galapagos.
Go zip lining in Baños.
Dine on sublime ceviche in Quito and other parts of Ecuador.
Stand in both the northern hemisphere and the southern hemisphere at the monument equator line.
Go kayaking in a volcanic crater at Quilotoa.
Go surfing on the Pacifc Coast at Montanita.
Cultural activities
The eclectic mix of diverse Ecuadorian cultures enchants visitors, beginning in the capital. Declared as UNESCO's first World Heritage Site, Quito's historical old town is blossoming into Latin America's leading city break. Beyond the architectural beauty of its baroque churches and palaces, Spanish and pre-colonization roots still run through the street music, bustling plazas and local cuisine. Up in the misty mountains, communities, deep-rooted in the past, travel miles with their goods to Andean towns. Suddenly, market squares burst into a kaleidoscope of colors, from hand-woven garments to odd-shaped fruit. The sharp scent of roasted meat and chirping from local traders swirls along the streets with local bargain hunters and starry-eyed travelers.
– Tom Feiling – Short Walks from Bogotá
– Charles Nicholl – The Fruit Palace
– Gabriel Garcia Marquez – 100 years of solitude, Love in the time of cholera, News of a Kidnapping…in fact
any of his novels or short stories.
Best time to visit Ecuador
Ask any local and they'll say "Ecuador is perfect to visit all year round." While not far from the truth, it's worth noting the two main seasons: Wet and Dry. If you are an adventurous group, you will enjoy cooler and drier conditions in the Andean Highlands around Quito from June to September. October/November offer variable weather – often sunny mornings, rainy afternoons and fewer tourists. The western Amazonian region is wet all year round, but less so from August to November. Humpback whales migrate along the Pacific Coast from June to September, though the warmest time is from December to May. The Galápagos is just spectacular all year round, though for smaller crowds, June to December is the time to visit (unless you jump on a multi-day cruise which restricts visitor numbers, meaning you can enjoy the clear snorkeling waters from December to May.)
Getting there
Over the past few years, a plethora of new direct routes have emerged from major North American cities to Ecuador's two international airports. Quito's slick award-winning airport, Mariscal Sucre, has direct links with Atlanta, Miami, Houston, and Fort Lauderdale. Guayaquil's José Joaquín de Olmedo International Airport has direct flights from Miami, New York's JFK and Fort Lauderdale. Otherwise, stopovers are available from other major Latin American cities like Panama City, Lima and Bogotá. 
Getting around
Traveling around Ecuador's dramatic landscape inspires arguably the most memorable experiences of all. Fleets of comfortable buses link major cities, coastal towns and many villages. Thanks to a multi-million dollar revamp, the luxurious Tren Crucero (Cruise Train) winds through Andean peaks, snow-fringed volcanoes and into Guayaquil. Check www.trenecuador.com for multi-day trips. While inexpensive yellow cabs swirl around major cities, renting a car proves a great way to navigate the main avenues. A series of well-built roads, including the Pan-American Highway, make driving simple. Drivers over 21, and with an international license, will find it cheaper and easier to rent a car and deal with road police along the way. However, heading into the winding highlands takes more planning as GPS and phone signals fade and road signs become non-existent.
Food and drink
With such a plethora of unique ethnic groups, Ecuadorian food spans from the weird and wonderful to the downright bizarre. Potatoes and corn play a vital role in most dishes; Andean markets in particular explode with hundreds of different types. The 200 varieties of spuds are often used in soups like Locro Soup, while you can pick up a cup of choclos (corn doused in cheese, guacamole and cream) from street vendors. Seco de Chivo (goat stew) and ceviche – with corn, of course – are common in most restaurants, though the country's pièce de résistance is a fried rodent. Cuy, (guinea pig) performs an integral part of indigenous culture, not only for keeping as a pet but for its special healing powers and sweet, smoky taste. Ecuador's land erupts with fruits, making for delicious juices like maracuyá (passion fruit), tomate de árbol (tree tomato) and uchuva (physalis). For those looking for a stronger tipple, try the corn beer chicha de jora, or the sugarcane based aguardiente – a sharp, potent and dance-inducing liquor.
Frequently asked questions
Is it safe to travel to Ecuador?
Ecuador is currently listed as Level 2 on the US government travel advisory. While there are some places to avoid, the areas which attract the main bulk of travelers have been deemed safe for years though usual you should take care in certain areas at night.
What is the safest place to visit?
By far the safest place is the Galapagos. This iconic archipelago attracts visitors all year round and sees low crime rates and is well controlled and policed. Other destinations include Cuenca, Montanita and many parts of Quito. 
Do I need a visa to visit Ecuador?
When you enter Ecuador you will receive a 90-day visitor visa. A simple stamp in your passport. You can ask for an extension of 90 more days if you wish to stay longer.
What language do they speak?
People speak Spanish in Ecuador and this is the official language. Quichua is spoken within many indigenous communities.
Is it expensive to travel in Ecuador?
Ecuador is usually rated as one of the cheapest South American country to visit as stated in this blog. However, as the Ecuador currency is the US dollar it isn't subject to the often dollar-favored exchange rate fluctuations. While much of the country is cheap to travel, the Galapagos remains quite expensive, even to US tourists.
How many days in Ecuador is enough?
Due to its size, Ecuador is easy to travel around and you can experience cultural and natural diversity in a short period of time. It is actually possible to visit the Amazon, Andean Highlands and Pacifc Coast in one day if you wished. This makes Ecuador an ideal destination for one or 10 days.
Do I need a Covid vaccine to enter Ecuador?
There are no Covid-19 requirements for most visitors to enter Ecuador. You don't need to show a negative test or a vaccination card. This also includes the Galapagos Islands. Visitors from the US can find more information on the US embassy website.
What vaccines do you need?
When is the best time to visit?
June to September are great times to visit as the weather is usually drier and sunnier. The best time to visit depends, however, on where you wish to go. While the Sierra region is good from June to September, the Oriente region is best (not as wet) from August to September and December to February. The Galapagos is driest from June to December though try to avoid Easter as the islands get busy during this week.