Summer + Study Abroad Programs
Inspirational, impactful & unique
Immerse yourself into a vibrant, coloful, and ultra-friendly culture, and develop the tools to be able to help create a more sustainable world.
​Colombia, the world's second most biodiverse country, is awash with extraordinary nature, remarkable traditions and world-leading innovation. Choose from our sustainability-focused study programs to enjoy a trip of a lifetime and stamp your positive impact on society.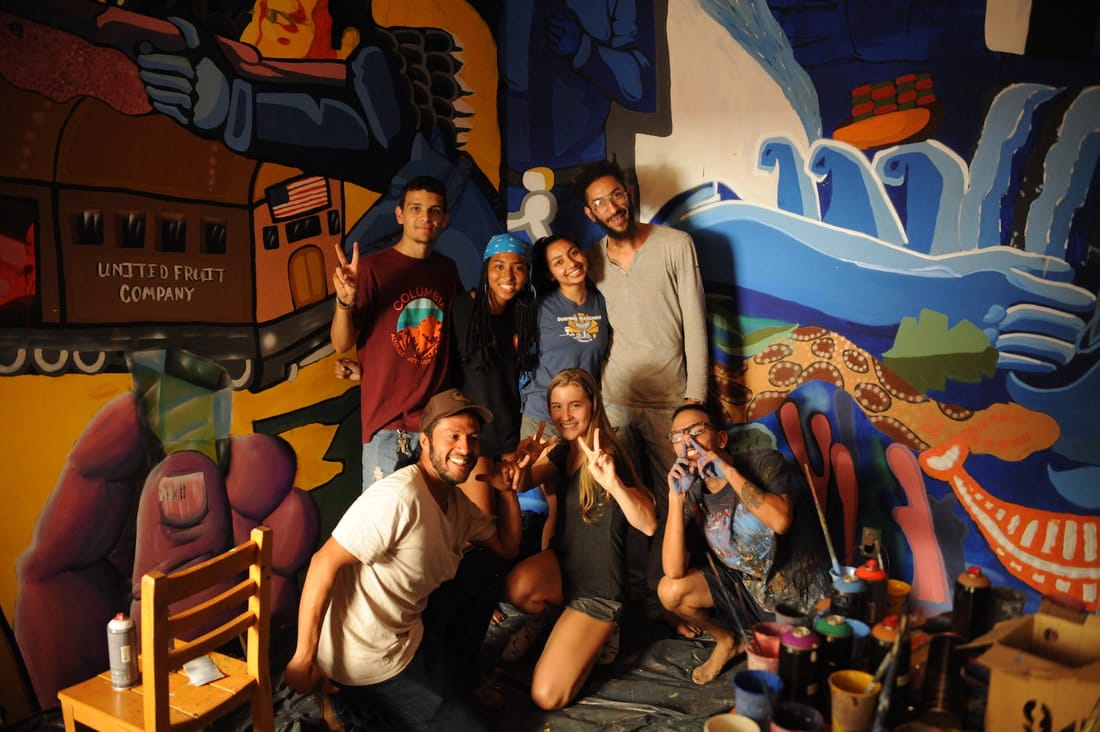 Develop the skills and knowledge to contribute to a more sustainable world while exploring a country brimming with color, music...
Develop the skills and knowledge to contribute to a more sustainable world while exploring a country brimming with color, music...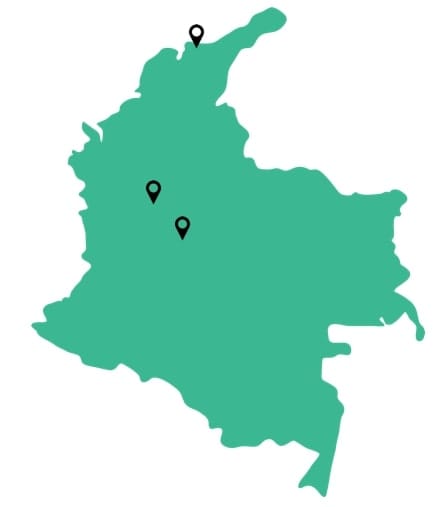 Fast Facts
Locations: Medellin, Santa Marta, Cartagena, Los Nevados, Guatapé
Language: English or Spanish
Length: 4 – 5 weeks
Date: Spring. Summer, Winter and Fall
Accommodation: Shared student accommodation, homestays with local families, guest houses, hotels, eco lodges
Cost: From 2,499 USD p/p
Discount: Refer a friend to receive a 200 USD discount
Weather: Medellin is the City of Eternal Spring and has an annual temperature of 26 degrees celsius. Dry season lasts from mid-December through mid-March and then June through August.
Gain a greater understanding of global issues – by visiting and working with social and environmental projects like reforestation, organic farming, urban gardening, city planning and many more.
Immerse yourself into a new culture – enjoy activities like coffee tasting, city tours, museum visits, exotic fruit exhibitions and salsa dance classes.
Collaborate with like-minded students​ – you will work alongside local students, giving you a truly culturally-immersive experience.
Develop soft skills highly desired by employers – enhance your CV by developing abilities like teamwork, cross-cultural communication, problem-solving and many more.
Test your boundaries – break from your comfort zone by experiencing a new culture and trying new activities with people from around the world.
Unlock your potential – our methodology will spark the fuse within you so that you can help contribute to a more sustainable world.
Why Kagumu is Colombia's best company for a study abroad program
UK and Colombia certified
We are one of the few experienced educational companies legally certified in the United Kingdom and Colombia.
Safety and security
The safety of your students is our number one concern. We have vast experience organizing trips for students from schools, colleges and universities from all over the world.
Transport & Accommodation
We carefully choose all our partners – transport, hotels, hostels, eco lodges and homestay families, to ensure the safest, most enjoyable stay for our students
Responsible Travel
We strongly believe in responsible travel and are dedicated to limiting our environmental impact, increasing our positive social impacts and inspiring others to follow suit. To achieve this, we work in line with the UN's 17 Sustainable Development Goals.
Local Partners
We have developed strong relationships with universities (like partners EAFIT University), sustainable local projects, communities, local families, entrepreneur groups and many more to offer students a personalized and memorable experience.​​
Fully customizable itineraries
We can adapt each itinerary to the needs of students or can design your trip from scratch. Contact Kagumu's expert team to find out more.
Liability and booking conditions
We offer full liability for your trip and can also offer a very flexible cancellation policy. Contact us for more information.
Scholarships
We offer scholarships for various students across a variety of programs. Contact us by clicking here to find out more.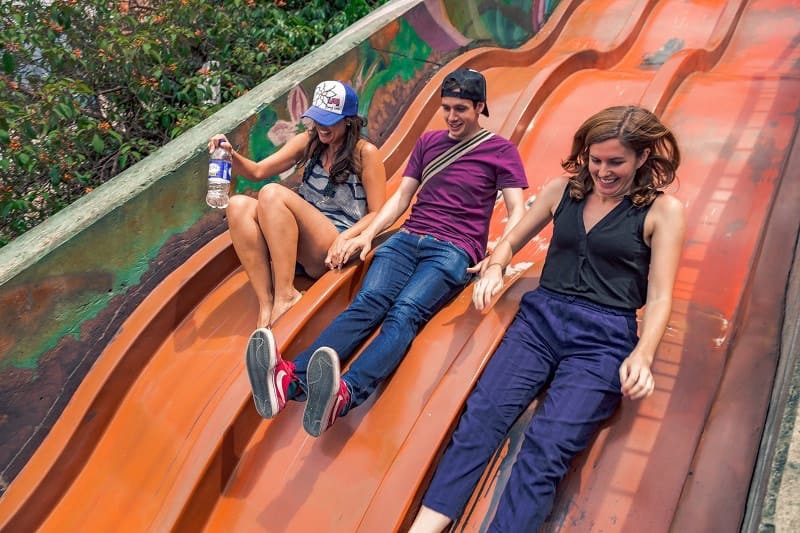 Where to study in Colombia
Whether you fancy a multi-cultural experience in the capital Bogotá or are drawn to the colorful Caribbean vibe of the coastal cities like Cartagena, Santa Marta and Barranquilla, Colombia possibilities are far and wide. Of course, we really love the City of Eternal Spring, Medellin. To help you decide, check out Kagumu's article detailing Colombia's best places to study.
Safety and Security
We understand that safety and security is the number one concern for students, teachers and parents when considering a study abroad program. Thanks to our experience and dedication to safety we can point to an unblemished record. During every program, we offer 24/7 Kagumu staff support and regular communication with parents and educational institutes back home. All our partners have been carefully assessed and we offer detailed risk assessments before each trip. Our expert guides are fully trained in first aid and have undergone CRISIS training. One of our safety and security experts will quite happily run you through our safety procedures in detail if you would like to contact Kagumu's team here.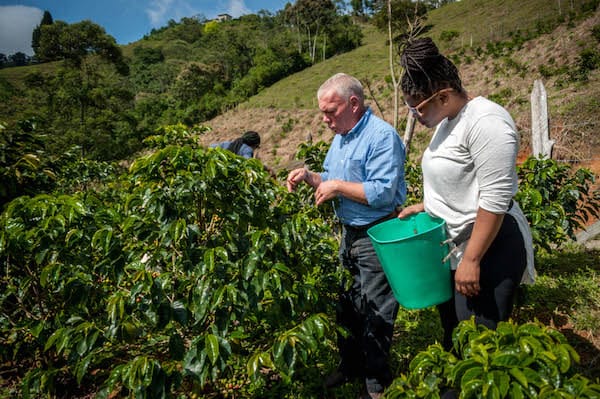 Homestay in Colombia
Why not choose a program that helps you immerse yourself into traditional Colombian life with a truly memorable homestay experience. Choosing a homestay will allow you to interact with your new family on a daily basis, learning how to cook, dance and even play bingo. You'll soon realize why Colombians are often spoken about as one of the kindest and happiest people in the world. Click here to check out our blog piece on homestays.
Frequently asked questions
Is Colombia safe?
Today, governments around the world have declared it safer than ever before to visit. In 2018, the US government raised its safety level to level 2, the same as Belgium. And, in 2019, the UK declared much of the country safe to visit. Our chosen destinations have for many years been safe to visit and have welcomed tens of thousands of visitors every year.
What type of people join the programs?
This trip is for anyone interested in engaging with pressing global issues, experiencing a new culture and developing transferable career skills. Individual students will join others in a private group no larger than 16.
Where will I be staying?
Students can choose between carefully-selected and experienced host families or shared student housing. In general, students will have private rooms unless stated otherwise.
What will the weather be like?
Expect sunny days with the slight possibility of rain during the evening. Medellin, dubbed the City of Eternal Spring, will be a steady 26 degrees Celsius during your time. Other climates depend on the program you choose.
What will the food be like?
You will get a real taste of local Colombian cuisine from community-cooked soups called sancocho to mountain lunches wrapped in banana leaves and from the finest coffee in the world to a huge variety of fresh fruit juices.
How much free time will I get?
You will enjoy free time most evenings and we have divided afternoon programs so that you will get two free afternoons per week. You will also enjoy a free weekend.
Will I be insured? What about the visa?
We provide full travel and health insurance for every participant, and we can provide full details of this. Your visa will cover your stay in Colombia.
Will Kagumu staff be with me all the time?
We offer 24/7 support in terms of emergencies and many of the day and night activities will be led by expert Kagumu staff.
What language are the programs in?
Workshops will be in English unless it is a Spanish immersion program. Project visits will be in Spanish with English translations where necessary.
How does the online course work?
We offer our unique study abroad programs online. Students who are unable to travel can engage with global issues and immerse themselves into Colombian culture without leaving their home or university.
Do you offer scholarships?
Yes, we offer a range of scholarships for eligible students. Please contact us by clicking here.
Are international flights included?
No, International flights are not included in our price but there are many connections to airports in Colombia and recommend searching on SkyScanner by clicking here.
What are the 17 UN Sustainable Development Goals?
The UN's 17 Sustainable Development Goals are a set of goals created at the Paris Conference in 2015. The aim is that by 2030 every country in the world will have helped end extreme poverty, reduce inequality and stop climate change. ​​Find out more about the SDGs by clicking here.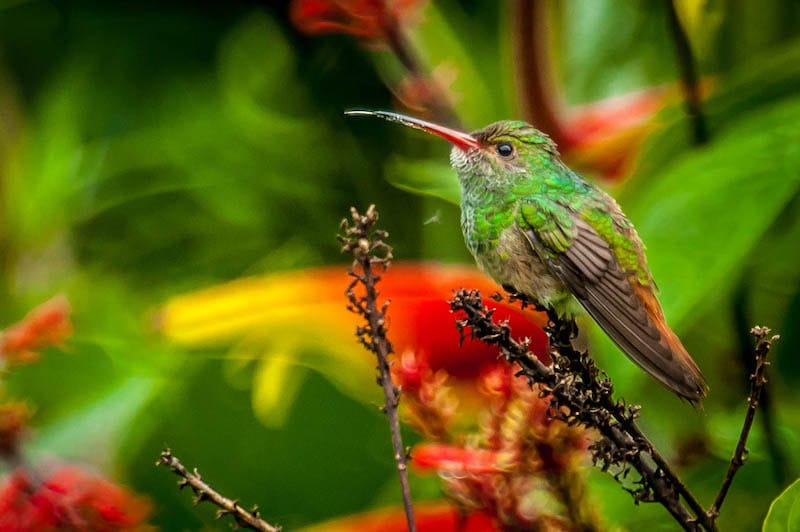 Facts about Colombia
Colombia is the second most biodiverse country on the planet after Brazil, and that is seven times its size!
Colombia is a leader in sustainable development and its second biggest city, Medellin, has been praised for its social transformations.
Speaking of sustainable development, Colombia was the country that actually suggested the world should create 17 Sustainable Development Goals in 2015.
Colombia is home to 87 different indigenous cultures.
Colombians are often named among the friendliest people on the planet.
Colombia is home to the most hummingbird species in the world.
The country lays claim to a host of famous artists including the Nobel Peace Prize-winning author Gabriel Garcia Marquez and pop star Shakira.
People often misspell the name; it is not Columbia it is Colombia.