7 Reasons Why Colombia is Perfect for your Spanish Study Trip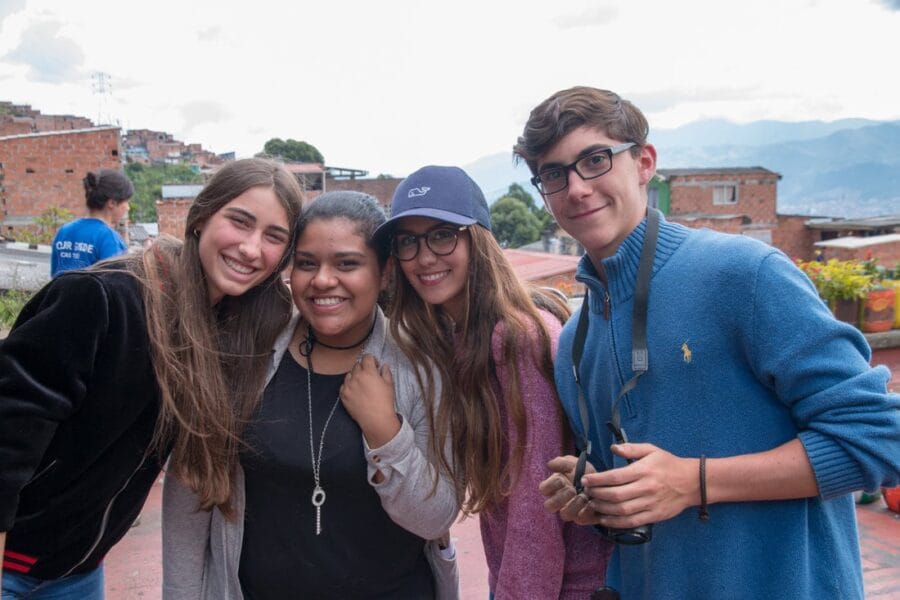 Complete Spanish immersion, a burgeoning reputation for safety, and incredibly low travel expenses are just three reasons why Colombia is the perfect country for a student Spanish study trip.
1. Ultra friendly locals
Who doesn't find it easier chatting with someone who has a huge smile on their face? Whose welcome includes a warm hug and a kiss on the cheek! Muah. Well, don't just take our word for it; search the internet and you'll come across testimonials of Colombian's super friendly nature, their eagerness to welcome visitors to their country, and their open house policy (mi casa es su casa!). Not only will you find practicing your Spanish fun, you could also make friends for life.
2. The clearest accents in South America
Clear, natural, and easy to understand. Three ways Spanish learners often describe Colombian Spanish, especially in the Andean regions and major cities. Learning a new language is always tricky so help yourself improve quickly by learning with people who speak wonderfully clearly. No need to crane your neck, squint your eyes, trying to work out what someone is saying. Of course Colombia boasts a plethora of different accents too, so when looking for a linguistic challenge you can always head away from the big cities to discover rural dialects.
3. Cheaper than its Latin American counterparts
 Colombia is ranked as the cheapest major nation in Latin America to visit. Travelers to Chile shell out a whopping $93 on average each day while Peru ($43.7) and Argentina ($37.2) push the purse stings too. Colombia, however, gives you much more bang for your buck with an average daily spend of just $25.39! This provides yet another major plus for students looking to keep their expenses down when booking their trip and when traveling around Colombia.
– Check out our tips on how to reduce the cost on a student trip –
4. Spanish immersion
Give yourself the best opportunity to improve your language skills by immersing yourself completely into the Spanish language. This means, no English. In many countries, locals find it hard to resist correcting your Spanish with their own English. I mean, they want to practice too and who can blame them. However, study in Colombia and you'll find the vast majority of locals speaking only Spanish. In fact, Colombia has the third lowest proficiency of English in Latin America making it ideal for total immersion.
5. Safer than ever before
It's taken a long time but finally Colombia is being recognized as a safe country to visit. Indeed, in 2018 the US downgraded Colombia to a risk level of 2. This is the same as Belgium! While usual precautions should be taken, much like any country you would visit, visitors should have no fear when visiting Colombia, especially when using a reputable tour operator that knows the lay of the land. There is more good news too. For years foreigners avoided Colombia as they thought it was too risky. Great for students. Thanks to this, they will find a country still unspoilt from tourism. A country that maintains its fresh, adventurous vibe that takes students out of their comfort zone and offers them something new.
Spanish study trip in Colombia – check out our programs
6. Growing international connections
Over the past decade, Colombia has seen a boom in direct flight connections. In terms of the US, you can now find daily direct flights from Miami, Orlando, Fort Lauderdale, New York (JFK & Newark), Washington – Dulles, Houston, Atlanta and Toronto. Avianca, Colombia's main airline, has daily direct flights from London, UK and Spain is linked with non stop flights from Madrid and Barcelona. You can fly from Germany, France and the Netherlands too with Frankfurt, Paris and Amsterdam enjoying direct links. ​​​
7. Language immersion tours growing
With the increasing visitor numbers, Colombia has kicked on in terms of language immersion tours and experiences. In the capital Bogotá, you can discover world-class street art through the eyes of a local – a great way to practice Spanish comprehension. In the country's second biggest city, Medellin, you can come face to face with local flower makers, coffee cultivators and organic farmers, taking part in unique hands-on activities that will extend your vocabulary. A heady mix of cultures, Colombia boasts 87 different indigenous communities, allows you to experience vastly different ways of life and explore extraordinary archeological sites like the spellbinding Ciudad Perdida – the Lost City. 
If you are interested in creating your own Spanish immersion tour for your students, get in touch with one of Kagumu's team by clicking here.