Lost City Trek: What You Should Know Before You Go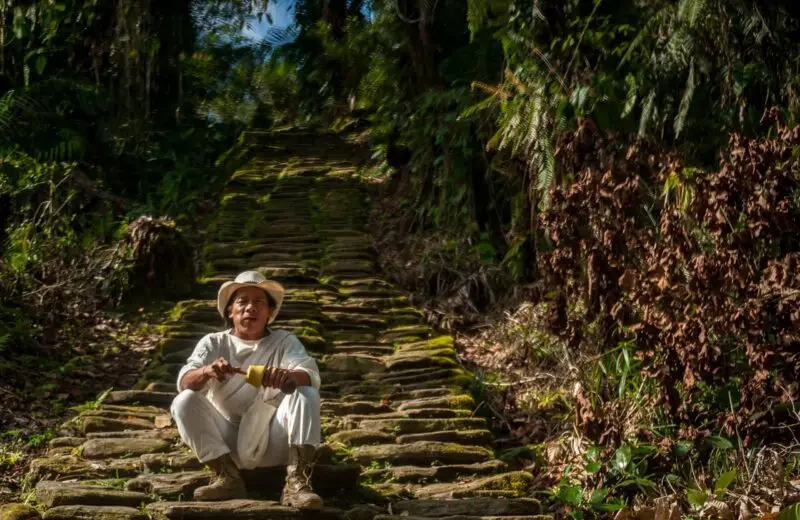 Are you thinking about trekking to the Lost City – Colombia's most famous archaeological site, embedded into the Caribbean jungle? Before you go; here are some tips from a guide that has been walking the trail for the past six years.
Few people know the Lost City trek better than Marco Pollone. Having walked the trail over 200 times, leading travelers from all over the world, Kagumu's main tour leader gives you his top tips for making the most of your journey to the Lost City.
How to get to the Lost City
​Daily treks begin every morning (expect for September, when the site is closed) from the centre of Santa Marta. You can drop into one local tour operators' offices in the centre of the city to join a trip. If you would like to be more prepared, you can choose from one of these pre-planned Lost City trips.

The ride from the city to the start of the trek is about 2.5 hours in a 4×4 truck. You travel along a coastal road that connects Santa Marta with Venezuela and then swerve up a bumpy off-road track to reach the first village called Machete Pelao.

After lunch and a quick briefing, you start the trek.

A lot of people ask me what the trek looks like. Just imagine: a mix of ups and downs, humid forests with low-hanging vines, baking sun, downpours, rivers (that you cross) waterfalls (that you shower under), and natural pools (that you swim in).
Packing List
Packing is never easy. It's even more difficult when you know you will be carrying the weight on your shoulders for 4 days! That's why it is essential to follow this Lost City trek packing list.
Sneakers or boots and sandals or flip-flops
T-Shirts – (fast drying if possible)
Shorts
Sweatshirt or long trousers for the nights
Bathing suit
Towel – microfiber is the best option
Socks (long ones to protect against bites)
Product against insects
Personal hygiene Items
Flashlight
Water bottle 1-1.5L
Personal medicine
Camera
Waterproof or plastic bags for rain
​
Believe me, having patience and packing as light as possible are the keys for success on the Lost City trek.
Length of the trek
​Hiking between four and eight hours every day is not always easy. However, you just have to stop and admire the beautiful, wild place and realise how rewarding it is. I mean I have been over 200 times and can't wait to go back again.

Oh and, don't be fooled by the distance from a map – 46.6 km there and back as the crow flies is really about 50 km overall.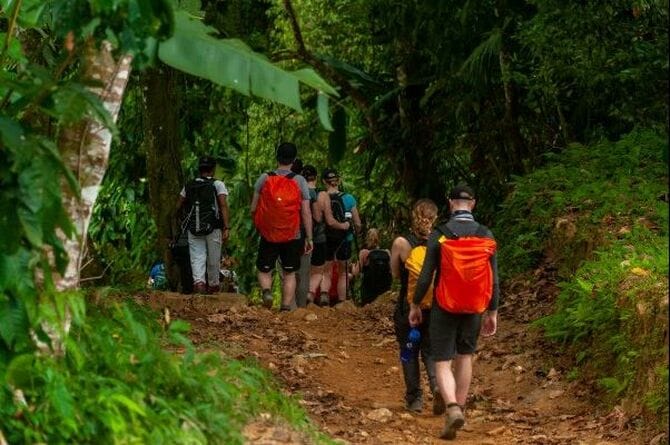 Climate and Elevation
​Weather on the Lost City trek is unpredictable. Rainy season usually starts around June and ends at the beginning of December.

Temperature depends on elevation; the higher you go, the colder it gets. During the day, the air will get to around 30 degrees Celsius, dropping to 15 at the highest point at night. Thermal excursion may make you feel chilly – this is where the long trousers and a long-sleeved shirt come in handy!

In terms of elevation, the trek starts at 150 meters above sea level and reaches 1200 meters. The highest point is actually Ciudad Perdida, the Lost City itself.
Best time of year to visit the Lost City
​The trek is open all year long, with the only exception of September. The trail is closed during this month for members of native tribes – Kogui, Wiwa, Arhuaco and Kankwamo – to take part in spiritual cleaning rituals in the ancient site.

Rainy season lasts from June through the beginning of December while August is the peak time for European travelers. Easter, December, and January are popular dates for South American travelers.  

February or April/May is much dryer with fewer travelers.
Type of accommodation on the trek
​After a day trekking, you spend the evening in campsites. These have a kitchen, showers (no hot water), toilets and you will sleep in a bed or a hammock – don't worry; I will show you how to sleep well in a hammock.

You will arrive at the camps in time for dinner and, usually in time for a swim in the rivers and/or under waterfalls. This is a real highlight for many travelers.

There will be a small shop to buy snacks and a beer or two and we will eat each dinner in the camp.

Each bed or hammock will have a mosquito net and a blanket and you will be able to recharge batteries for your camera or cellphone too.

Even though there's no signal, all campsites are connected by radios and Wi-Fi, which is used in case of emergency.

After dinner, our native guide from the Wiwa community will tell us about their culture that has barely changed for centuries and a few weird stories too.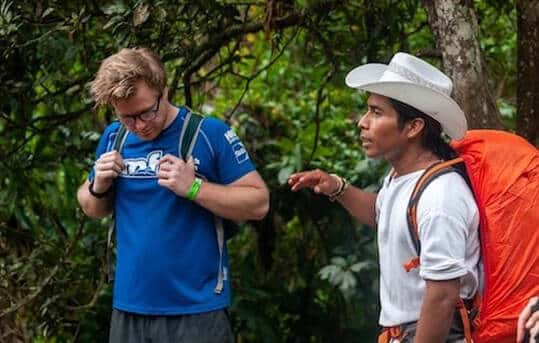 Lost City trek operators
​All Lost City trek operators are local companies based in Santa Marta. International operators like Kagumu Adventures works with the most socially and environmentally responsible company.

When you look at reviews all over the internet, on TripAdvisor or Colombian reddit, you may find posts like: "I went to the Lost City with G Adventures" or "I did the Lost City trek with Intrepid". It's not completely false… but it's not true either: companies usually hire a local operator and send one of their local leaders too.

Kagumu Adventures operates in a similar way, except the tour leader is me. I live in Santa Marta and have spent the last six years guiding groups on the Lost City trail. I'd like to think I know a lot about the route, the history, the stories and the culture and I share this with you along with our and supporting a local native guide from the Wiwa community.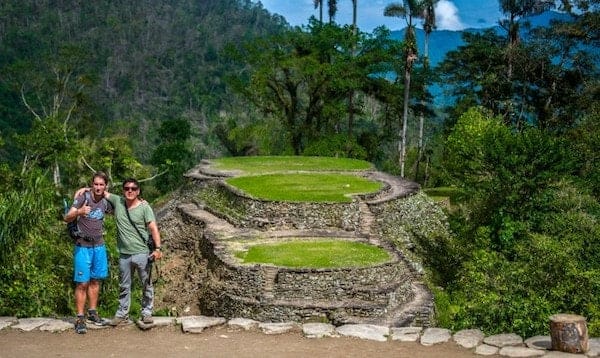 What does the trek include
​Prices for the Lost City trek increase slightly every year as agreed upon by local guides, cooks, operators, and local communities.

​Every trek includes guides, accommodation, food, transport to and from Machete Pelao – the village where the trek starts and ends. Health insurance and entrance tickets to the archeological site of the Lost City is also included. The money you pay includes a contribution to local farming and native communities too.

Many of the Kagumu packages found here include: airport transfer, indigenous weaving workshop with the Arhuaco community, at least one night in a jungle-embedded eco lodge after the trek, extra meals and a tubing journey down a winding and to a deserted beach.
Food
Each group travels with a cook and food is transported to each camp by local mules. Your breakfast, lunch and dinner will be prepared for you and your group.

Typically, traditional meals are plentiful, with a lot of rice and grains, vegetables, fish, and chicken. Delicious fruits add to the wholesome breakfast and you can enjoy sliced watermelon, freshly squeezed orange juice and bananas at certain points on the trail.
Typically, traditional meals are plentiful, with a lot of rice and grains, vegetables, fish, and chicken. Delicious fruits add to the wholesome breakfast and you can enjoy sliced watermelon, freshly squeezed orange juice and bananas at certain points on the trail.
Special food requirements
​Guests are often surprised at the options we can give for people with specific food requirements and allergies. I personally buy the food from the local market in Santa Marta the day before the trek. If you are vegetarian, vegan, celiac or anything else, don't worry; we will make sure you have a wide variety of foods to eat.
Difficulty
​So, as you may have read on reddit or in the Lonely Planet; the trek is challenging and the climate is often the biggest hurdle to overcome.

If you are an expert hiker but you are not accustomed to high temperatures, mosquitoes and humidity, then you might find it challenging. But that is half the fun, right?

On the other hand, rainy weather makes the experience more adventurous. Trudging through mud can be quite the experience.

My tip is pack light and be patient. Basically, it means controlling things you can, and letting go of the things you can't control like the weather. Enjoy every second of it, because it's going to be worth every drop of sweat.
​
Here are some questions I often get asked
Do I have to carry my backpack all the way up and down?
​Yes. But I have a few tips to make life easier.

You can leave your big rucksack in the hotel to pick up afterwards. In terms of your backpack for the journey, you can store things you don't need at the campsites on the way to the Lost City. You will return along the same trail so you can leave them and pick them up.
​
How money should I take?
I would suggest around 250.000 Colombian pesos which is around $80 USD. This means you'll be able to buy drinks on the way, purchase handicrafts or bags from locals and of course enjoy a nice beer as a reward at one of the camps.
​
Should I tip?
Tipping is completely optional and there is no pressure in Colombia to tip in general. However, if you feel you'd like to show gratitude to locals then tipping, guides, the cooks, helpers and the native guide would be appreciated. Bear in mind that you will be with a guiding team of around five people.
​
Is the Lost City trek safe?
​Yes, I still get asked this question. Nowadays, La Sierra Nevada de Santa Marta is safe, since the drug trafficking and illegal cultivations have disappeared. However, like any place you visit, you should look after your belongings and listen to instructions from the guide. That's what we are here for!

In case of a serious accident, evacuation methods are in place for you to be transported by helicopter or by mule, motorbike and/or car to the nearest hospital. In recent years, improved communication has helped making the procedure much faster and more efficient.

Of course, guides, cooks, helpers and staff on the way has been trained in first aid and basic survival too.
​
Do I need a vaccine?
​As of 2019 (and pre Covid-19), no vaccines were required to enter the Lost City. There haven't been any cases of malaria or yellow fever in recent years even though some travelers get the vaccine and take malaria pills for peace of mind. I have found that sometimes taking malaria pills can make people feel weak, which results in a more difficult trek. I'd say refer to your local doctor if you want to know more about the side effects.

The only thing left to do is decide when to visit us! If you have any other questions about the Lost City trek, please comment below and I will get back to you.
Fancy joining Marco on an adventure? Click here to view our Lost City trips.

​