Faculty-led trips: How to Lower the Costs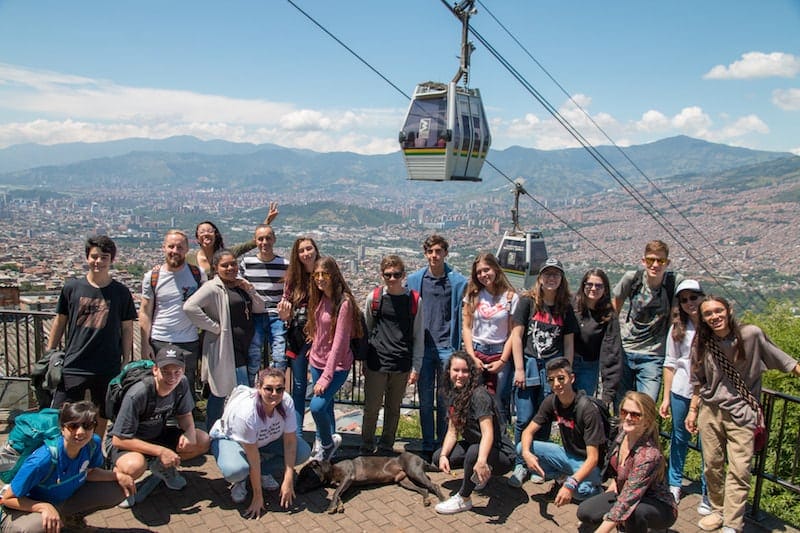 Faculty-led trips and travel can sometimes be expensive. Check out 9 essential tips for keeping costs down when organizing your next educational tour for your students.
Choose your destination carefully
This may seem obvious but the cost of an educational trip will depend heavily on the destination you want to visit. Look for upcoming destinations that fall away from the main tourist track. These destinations will not only give your students a less touristy experience but you will doubtless get more bang for your buck. You have all heard of the term: tourist prices haven't you? Well, this can double or even treble your overall costs.- Click here to view Kagumu's student trips in Colombia.
Decide on the best time of year
If possible choose your educational trip outside of peak vacation times. In South America, for example, try to avoid Easter (semana santa) and the main vacation period from mid-December to mid-January. Prices will inflate during these peak weeks, adding to your costs or increasing travel operator prices. If in doubt, ask a local operator what time of year is best to travel.
Book your flights wisely
​If you are booking your own flights, check these tips out before you do:
​Book your flights 7 weeks in advance for domestic flights and 5 ½ months for international. Book too soon and you won't find any discounts. Go too late and prices will inflate.
Search for flights on a Tuesday at around 3 pm Eastern Time. The specificity is alarming but it works!
Erase all cookies and your computer's history, or search in incognito mode (this actually works too!)
If you are using a local travel operator make sure you arrive early on the first day and leave late on the last day to take advantage of their travel package.
If you are using an educational travel agent, make sure you book in advance and ask them for quotes for different days. You will be surprised how much the cost of a flight changes from one day to the next. Don't be afraid of negotiating too. Even airlines are able to offer discounts!
Use a reliable local operator
It may sound counterintuitive to pay an operator to organize your trip. I mean, you can book everything yourself, right? Well, local operators are experts in their area. They will save you time and money and you'll end up with a cheaper faculty-led experience than if you organized it yourself. Here's why:
Local operators have long-standing contacts in the country so they get discounts on accommodation, transport, activities, restaurants. For example, Kagumu Adventures receives up to 10% discount with many of our local suppliers in Colombia thus contributing to a more affordable overall price for you!
No wasted money – Choose a good local operator and you entrust them to find the most affordable and most suitable suppliers. 
Time saver – The amount of time you will save is incomparable.
Have you ever paid for a sub-standard meal while traveling and thought "what a waste of money" Well, local operators know the best off-the-radar local restaurants at a fraction of the cost of one you'll find in Lonely Planet.
Emergency costs – in the case of a serious emergency you might find yourself handed a huge health and even liability bill. All good local operators will include this in their price. Contact a Kagumu expert to find out our liability offers. ​​
The more students you can gather for the trip, the better. Local operators should offer group discounts as their costs will be reduced when more students join a trip. Kagumu offers discounts for groups of 10, 15, 20 plus students.
Plan your faculty-led tour advance
This may seem obvious but planning in advance will save you a lot of money. Firstly, local operators will be glad to organize a trip months, maybe even a year in advance as this gives them time to arrange discounts and book early and thus avoiding any inflated prices. Arranging a trip in advance will also give you the chance to find a good deal on flights.
Fundraising
Many colleges and universities already incorporate fundraising into their faculty-led travel programs. This gives students a great opportunity of feeling the worth of their trip by contributing to the costs. It will also give them good fundraising skills that may be useful in the future. Encourage your students to have fun and creative with this. In the past we have seen students run around their town centre in a bear outfit, host a dance marathon and get family members to do facebook karaoke.
Be cheeky and ask for discounts
Don't hesitate to ask your local operator for discounts and money-saving offers. In the past Kagumu Adventures has given early-bird discounts for colleges and universities that have booked well in advance. We have also offered discounts for large groups as stated above and we offer discounts for colleges and universities that return the following year. Kagumu also offers free faculty member places for groups of 10 and above. Remember, if you don't ask, you don't get.
Fancy organizing a trip for your students? Contact a Kagumu expert today.