Mexico: When Ancient Worlds Meet New
Mexico's extraordinary cultural development and traces of its Pre-Hispanic civilizations run through the veins of its barely-believable landscapes. Deserts spread along the north while mangrove forests and tropical beaches cover the Caribbean and Atlantic coasts. The country's vast mountain range Sierra Madre, forms vast valleys, snowy peaks and epic volcanoes like Pico de Orizaba.
Every town boasts ancient ruins and traces of ancient worlds, proudly displayed or hidden by Spanish colonial buildings. built on top of their pre-Columbian sites and cities. Modern Mexico is an inseparable blend of indigenous and Iberian cultural heritage; throw in world-class museums, ultra-friendly locals and tacos to die for and you get a truly memorable travel destination.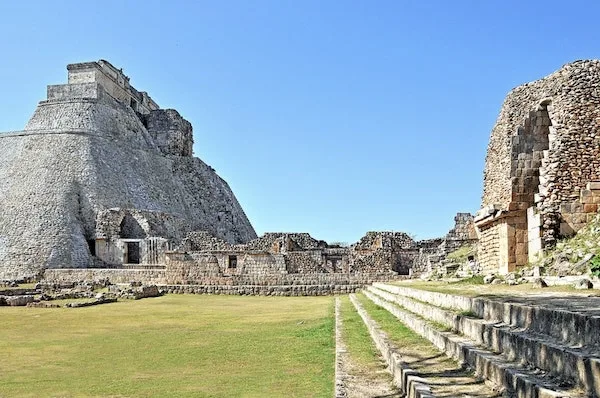 Quick details about Colombia
Electric voltage: 110V/60hz. Currency: Peso. Language: Spanish. Telephone: +57 (number minus 0).
Hygiene: We recommend using hand sanitizer during the trip. Water in Medellin is safe to drink but in other places we advise against it. When water is not portable we will provide water for you to fill up your reusable bottles.
Toilets: Never flush toilet paper. The pipes are narrow and the water pressure is weak, so toilets can't cope with paper. A wastebasket is normally provided.
ATMs: ATMs charge so try to use travel-friendly debit cards like Monzo. Visas: You will receive a 90-day travel visa upon entering Colombia.
Vaccinations: Please visit this page for information on vaccinations https://wwwnc.cdc.gov/travel/destinations/traveler/none/colombia.
Best time to visit
Any time of year is good to visit, though it is calmer from November to February. Hurricane season is technically from June to November, bringing warm rain that usually clears quickly. More significantly, hurricanes bring occasional dangerous conditions that you should monitor closely, such as flooding and landslides, that you should be aware of if visiting during these months.
Best things to do in Mexico
Mexico is massive, and there are many routes and special places to explore, but some just have a unique feel. Only in Tulum, on the coast of Quintana Roo, you can soak up stunning Mayan ruins that overlook the turquoise sea, then walk from the ruins along the beach to the zona hotelera.
Near the city of San Cristobal de las Casas in the highlands of Chiapas, is the unique church and town of San Juan Chamula. It's an accessible experience of Tzodzil indigenous culture, and once you have been inside the church here you will never forget it. The atmosphere of thick incense and candle smoke, with the hum of prayers and offerings, foliage spread out on the floor, with fizzy drinks and chickens. Politely accept the guidance of your inevitable local guide, take a deep breath and savour it.
The cenotes of Yucatan are a natural wonder, and matched with an experience of local cuisine in an old hacienda is quintessentially Yucateca. Cenote Saamal has an excellent Yucateca buffet, restored old hacienda buildings, and an enormous well-managed cenote, though nearby (5 mins drive), Cenote Dzitnup offers an underground and less crowded experience.
Food and drink
Mexico is a proud culinary culture; most Mexicans can talk about food enthusiastically for hours. The corn tortilla is a standard part of almost any breakfast (with eggs) or comida (big lunch around 2 pm). Chillis are famously important, though more accurately, the red, green, and habanero sauces sit on almost every table in the country next to the serviette holder. 
Health and safety
Follow health advice and try to eat in clean restaurants. Tap water is generally not drinkable. Vendors stick to well-cooked foods such as corn on the cob, tacos WITHOUT SALAD, and churros. Keep a cautious distance from street dogs which are common throughout the country.
Festivals and celebrations in Mexico
Day of the Dead is THE big one, on 2nd November, though Mexicans find a reason to party and gather pretty much every weekend amongst family, either at home or wandering out in the cooler evenings to town squares. Plazas may feel like a fiesta at least once a week with dancing and live music. For example, Parque de la Marimba in Tuxtla Gutierrez is lively every night, like the Zocalo in Taxco, Guerrero state. Easter Week, 'Semana Santa,' includes parades and large public celebrations in every town, and of course, Christmas is meaningful too, though more of an at-home family event.
Sustainable projects in Mexico
The Global Ecovillage Network has 49 entries for Mexico, ranging throughout the whole country. Many Americans and Canadians have been involved in founding communities over the years, drawn by warmer weather, Mexican culture, and other factors. There is a lot of homegrown initiative also to steward and protect Mexico's diverse and copious ecology. 
Mexico's government is supporting sustainability initiatives at a high level, while around the coast, NGOs and grassroots initiatives are raising awareness while protecting habitats and wildlife.
Sustainable hotels and places to stay
As sustainability is an increasingly popular theme for Mexican and foreign tourists, there is an increasing number of hotels that cater specifically to this niche. Many claim to be sustainable, and of course, the fun for you as a traveler is to ponder for yourself what the term sustainable means.
To give a few examples, there are luxury eco-lodges in Bacalar, and further up the coast, Tulum is a hotspot for yoga and eco-friendly hotels. Genesis Eco-Oasis near Valladolid is well integrated with the local village (where Spanish is not the first language), and with nature, you can enjoy frog songs as you lounge in the pool under the stars.
Frequently asked questions
Do I need a visa for Mexico?
US citizens only need to arrange a visa before traveling to Mexico. You will likely be granted a 180-day visa as you enter Mexico, for which you will fill out your details on the plane or at the airport. For travelers arriving by air, you need to bring a book passport with a full page available for your entry stamp. You may be refused entry without this.
You will be asked to provide an address for where you plan to stay, though if you only have a hotel booked for the first night, this is usually sufficient. You will hand this to the Immigration officer, who will leave you with half of it, which you should retain to show on your way out of the country. Immigration has the right to detain anyone who stays beyond their visa allowance. 
Is it safe to visit Mexico?
Over 20 million American travelers visit Mexico annually, and most experience no problems. However, Mexico is a large and varied country, and some areas are known to have a higher risk of violent crime, including kidnapping. For this reason, the US Bureau of Consular Affairs regularly updates its travel advice and specifically advises against travel to several Mexican states. 
When visiting any unfamiliar country or place, we may feel disorientated and need help to read the signs of risk or the intentions of people we interact with while carrying extra money and travel documents, cameras, or other high-value equipment. Unfortunately, thieves target tourists for this reason in known tourist destinations. However, in Mexico, tourist destinations have dedicated tourist police who are there to assist and protect tourists, which brings significant income to the local economy. 
The Mexican police generally have a bad reputation for corruption, so be cautious about approaching police officers. If you have an emergency, look up the US embassy and consulates in Mexico: https://mx.usembassy.gov/contact/
Follow US consular advice, travel in daylight, stay alert regarding your belongings and who is around, stick to busy areas and avoid remote areas. Mexico is a friendly and busy place, where most people will be keen to give you a warm welcome without overcrowding. 
When is the best time to visit Mexico?
If you're here for sunshine, you'll find that the skies tend to clear even when it rains, and the sun comes out again. Lots of people are drawn to witness Mexican festivals, notably the Day of the Dead on 2nd November, when municipal cemeteries are alive with colors, candles, families with photos of beloved deceased, and their favorite foods all beautifully laid out.
What is the weather like?
Seasons vary in Mexico, with cooler weather from December to February. The hurricane season is from June to November, affecting the Pacific and Atlantic coasts. Hurricanes can cause flooding and landscapes and can impact transport. Weather varies massively over this country, with dry heat in the northern deserts, relatively cool in the central mountainous areas, and humid heat in Chiapas and the Yucatan Peninsula in the south, where it gets up to 40 degrees Celsius in June and July.
What is the best place for students?
Mexico City is naturally the hub of national museums and galleries, so to see the best collections and representations of Mexican culture, there's nowhere else that compares. You can also visit Teotihuacan, arguably the most impressive ruins in Mexico, and the largest and liveliest markets and nightlife. There are many great places for students to visit around the country, but Mexico City is a must.
Can I drink the water in Mexico?
We do not recommend drinking water in Mexico. Even in cities like Mexico city the tap water is not safe to drink. We suggest using a filter or purifying tablets to save buying plastic bottles.
What do I need to know before traveling to Mexico?
Carry your ID and travel documents at all times, as you may be stopped by police and asked to show them. Your US driving licence can be used in Mexico too, and in most cases, a credit card (rather than a debit card) is required to rent a car.
What are Mexico's travel restrictions at the moment?
Neither the US nor Mexican governments, currently restrict the movement of US citizens in Mexico. However, the US Bureau of Consular Affairs advises against all but essential travel in various areas. Therefore, you should always check their website before traveling. 
Do I need a Covid vaccine to enter Mexico?
There are currently no COVID-19 restrictions for enetering Mexico. You do not need a vaccine and you do not need to take a test before entering the country.