How to Plan a More Environmentally-Friendly Educational Tour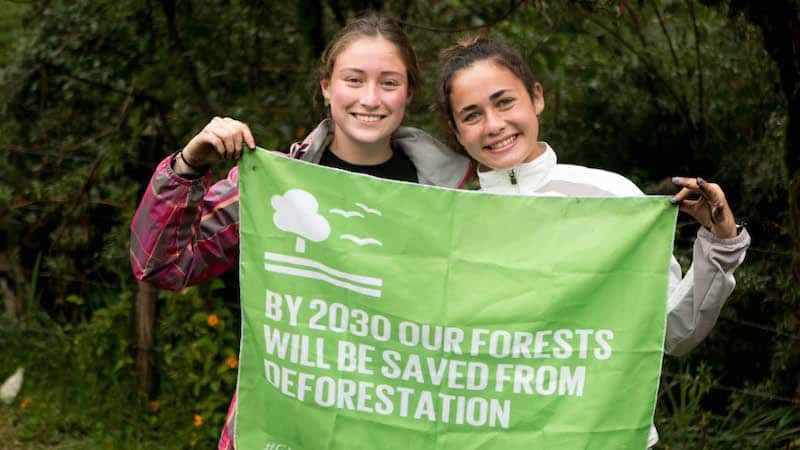 As teachers and students demand more educational tours that limit damage on the planet, we offer some expert tips on how to travel more environmentally sustainably. We start with how to plan your next educational trip with the planet in mind.
Choose a responsible local operator
The easiest way to limit your environmental damage while traveling is to choose a responsible travel operator. Many operators offer carbon neutral travel, taking into account the CO2 emissions from your flights, transport and trip as a whole. While aviation environmental impact usually bears the brunt of criticism, it's other lesser-known carbon emitters that can have a huge negative impact – starting with how you consume and the services you use.
​All the products you buy or eat, or the services you use during your trip, just like when you are at home, have an environmental footprint. It's often difficult to know the most eco-friendly services – restaurants, hotels, means of transport – when visiting a new country, so working with a conscious and experienced local operator is a must. Tip:​ request information on the internal operations of a company to assess its commitment to environmental sustainability. ​You can read Kagumu's commitment to measuring, reducing and offsetting emissions.
Carbon offsetting
One of the easiest ways to offset your flight's environmental damage is to calculate the tonnes of CO2 emitted then donate the equivalent amount to a certified reforestation or clean energy project. For example, if you have a return flight in economy class from London to Medellin with a stopover in Bogota, simply enter your details in ​South Pole's calculator. You will see that for one person the amount of carbon emitted is 3.159 tonnes. You can then go to ​​Stand For Trees and choose a project to donate 3.159 tonnes of carbon credit. This will pay for the organization to remove the same amount of carbon from the atmosphere through one of its projects.
​These conservation and protection projects are certified by Stand for Trees and can include protecting habitats for birds in Guatemala and reforestation projects in the Brazilian Amazon. You will then receive a certificate, showing how much you have donated. Of course, a responsible travel operator should include this in your package but we recommend supplementing this to ensure that you overcompensate for CO2 emissions. Tip: involve students in this process, encouraging them to calculate and donate to these projects themselves.
Choosing a destination close to home
One of the easiest ways to reduce the impact on the environment is to choose a destination to a neighboring country. Of course, choosing a destination within your own country and negating the need to fly, would further reduce carbon emissions. This brings forward the travel conundrum – do the benefits of travel outweigh the inevitable environmental damage? The only way to truly know this is to outline and measure, to the best of your ability, the positive impacts of the trip vs the negative environmental impacts. Tip: draw up a theory of change to determine what you want your students to gain from the trip and whether travel is required for this desired change.
Choosing the right airline
The way airlines operate can severely affect their performance in terms of carbon emissions. But how do you know which ones are environmentally conscious? Alternative Airlines, a search engine for international flights, gives you essential information on more eco-friendly airlines. You'll discover that Delta is investing heavily in their carbon offsetting and has committed to removing all plastic from their planes. And, in 2019 Etihad Airways powered a commercial flight using a mix of jet and biofuel – material used from the Salicornia plant.
Also, look out for those airlines that have signed up for the CORSIA (Carbon Offsetting and Reduction Scheme for International Aviation) agreement. This obliges airlines to report their carbon emissions and offset any increase in their carbon emissions from 2020. Tip: try to get a non-stop flight as this will lower the carbon emissions produced from landing, taxing around another airport and then taking off again. 
Eco-friendly internet searching
Did you know you can help with the global reforestation effort by just choosing the way you search on the internet? Ecosia uses the profits generated by you using its search engine to plant trees across the world. In fact, they claim that for approximately every 45 searches you make, they plant 1 tree. Their internal carbon footprint is incredibly low too as they run on 100 percent renewable energy. Check out their excellent blog on international environmental issues and tips. Tip: encourage your university to add Ecosia to its network, in turn joining others from around the world as seen here on their on Campus Campaign.
Consuming responsibly
One of the easiest ways to lower carbon emissions is to eat and buy from responsible local suppliers and manage your food waste. This UN Food and Agriculture Organization report says that if food waste were a country it would be the third highest emitter of greenhouse gases in the world. Keeping this to a minimum will not only lower your carbon footprint during the trip but also set a great example to your students. Tip: enquire about your hotel's food waste management process or ask your local operator for information on this subject. Check out Kagumu's blog post from a expert responsible consumption officer on how to lower your carbon footprint through food choices.
Choose eco-friendly accommodation
Again, this is something a great local operator should help you with. But if you are booking accommodation yourself, the best way to ensure eco-friendly stays is to look for international certifications. These will prove your host has gone through rigorous assessments to certify its environmental and social commitments. Look out for: ​Rainforest Alliance, ​B Corporation, ​Green Globe and ​Green Key. Alternatively, you could contact the local tourism board to inquire about the most eco-conscious hotels. ​Top tip: book a hotel with Trip Zero and they will automatically offset your carbon emissions of your trip for FREE. 
Reduce water waste
We have known that plastic is bad for the environment. In fact, glass, tins and any container that have to be made and then destroyed or recycled has a big impact on the environment. To solve this, insist that students bring their own refillable water bottle to either fill up from a clean water supply. An environmentally-conscious operator should supply drinking water throughout the trip in order to drastically reduce carbon emissions from unnecessary drink purchases. Tip: to really minimize the environmental damage, choose a responsibly made bottle like the US-based brand – Nalgene or Liberty Bottles – both of whom are BPA free and use ethically-sourced materials to make their bottles.