Biosecurity: What you Need to Know About Colombia's Plan to Reactivate Tourism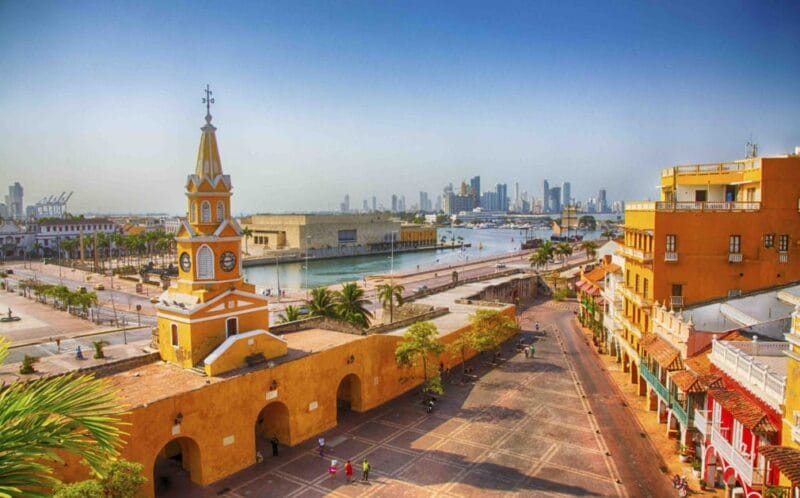 Colombia will become the world's first country to implement a biosecurity safety stamp for tourism in line with the World Tourism Organization (WTO). We look at what this means for the travel industry in Colombia.
While some parts of the world are tentatively opening up borders to salvage the tourism industry hit by the Covid-19 pandemic, Colombia is pioneering a new biosecurity stamp, aimed at giving local companies the knowledge and skills to implement protocols to create a safe environment for travel. The project also aims to give people the confidence to travel Colombia, knowing that their visit has been put through strict biosecurity protocols.
​
On Wednesday, 10th June, Colombia's
Ministry of Tourism ran an online training webinar, describing how this Latin American country planned to implement these measures.
Here's what you need to know:
Colombia has identified two avenues for companies to follow so that people can once again travel to and around the country in a safe and secure manner.
Implementation of biosecurity protocols
A bio security "check in" stamp
Let's start with the implementation of biosecurity protocols.
This is obligatory for companies and personnel working in tourism in Colombia. You are required to implement into your company, organization or personal in tourism two sets of safety protocols:
General protocols (these apply to everyone working in tourism)
Specific measures (these apply to your particular sector​)
​General protocols
These protocols cover general biosecurity measures that many people will be familiar with and are currently using – face masks, social distancing, working from home when you can etc. However, article 666 details the exact measures companies need to implement to operate in travel. Here is a brief overview of what you will find in the document:
General responsibilities for both the employer and employee.
General Measures associated with physical distancing, hand cleaning, Personal Protection Elements (PPE), cleaning and disinfection.
Information on protecting both workers and clients and also local providers.
Measures for the prevention and management of situations of risk of contagion with respect to: surveillance and health of workers, teleworking and attendance, interaction in eating times, locative measures, work tools and staff, interaction with third parties (tourists and guests), transfer from home to work, among others.
Use of the Corona Virus App
Specific protocols for different sectors within the industry
If you work in tourism you are also required to adhere to the specific protocols that relate to your sector. There sectors are divied as follows:
Accommodation such as hotels, hostels, camping etc.
Restaurants and bars
Travel agencies and tour operators
Attraction parks
MICE (Meetings, Incentives, Conferences and Events)
Beaches
More specific sectors that could in the future include security measure of their own are:
Swimming
Cruises
Trekking
Wellness
Adventure
Biking
You can view all the specific protocols for different sectors by clicking on this website – http://colombiasigueadelante.mincit.gov.co/.
​Every company or person working in the tourism industry is obliged to implement these measures until the emergency sanitation period ends. Currently this is scheduled for August 31, however, an extension is possible depending on how well Colombia is slowing the spread of the coronavirus.
Companies don't have to pay anything to implement these practices, however, it may be worth seeking expert consultancy on this subject. Kagumu Adventures is currently working with an expert consultant who will ensure all biosecurity safety protocols are in place.
Biosecurity safety stamp
The second part of the reactivation process is the biosecurity "check in stamp." Companies wishing to get a seal of approval have to comply with all the necessary safety requirements stated in article 666.
It is important to note that this is not obligatory and companies can still run their tourism operation without the stamp.
Read here how Colombia will be the world's first country to offer this stamp through the World Tourism Organization (WTO)
Colombia's Ministry of Tourism believes that companies who get the stamp will increase awareness of the issue, earn the confidence of travelers and gain a competitive advantage.
Anyone legally registered to work in tourism in Colombia can apply for this stamp. The process will rely on the general and sector-specific protocols that you have followed from article 666.
Once all the protocols are in place, you have to send off your application via the mini portal ​- and it will be assessed by ONAC – the National Accreditation Organization.
Important points to consider are:
The stamp is not obligatory.
The stamp will take up to 45 days to process.
The stamp itself is free but you must apply through Organismo de Evaluación de la Conformidad (OEC) which is accredited with Organismo Nacional de Acreditación de Colombia – The cost of this is still unclear as of now.
The stamp will last for 2 years.
If you have various entities working in the tourism industry (for example a company with an agency and a hotel) you will need a stamp for both individual entities.​
To view exactly what you need to gain the "check in" biosecurity stamp, click here.
Extra notes for travel agencies in Colombia
While safety protocols apply to you and your staff and any buildings or transport you may have, it is important to ensure all the providers you work with have complied with the biosecurity measures. You should also assess each part of your trip for potential bio risks and mitigate these risks where necessary.
Resources:
For information on accrediting your company with the stamp, visit Organismo Nacional de Acreditación de Colombia.
​For more information and videos about how you can implement biosecurity measures, click on this Facebook page – https://www.facebook.com/sdeconomicoarmenia
Click here to visit Colombia's Ministry of Tourism webpage.

Click here to download the coronavirus app in Colombia