Medellin: International Business
Shaping future sustainable business leaders
Prepare your students to work in a global business environment that's helping to shape a more sustainable world. Enhance their knowledge of social enterprises in Colombia, giving them first-hand experience of pioneering businesses that are delivering commercial success while working to a triple bottom line.
Location: Colombia (other locations available upon request)
Date: Flexible
Number of participants: 6+
Cost: From $599 p/p*
Language: Spanish or English
Subjects: International development, social entrepreneurship, global development, sustainable development, international business
Carbon emissions: 57kg of CO2e p/p – we offset 100% of these emissions plus your journey here! See below for more details.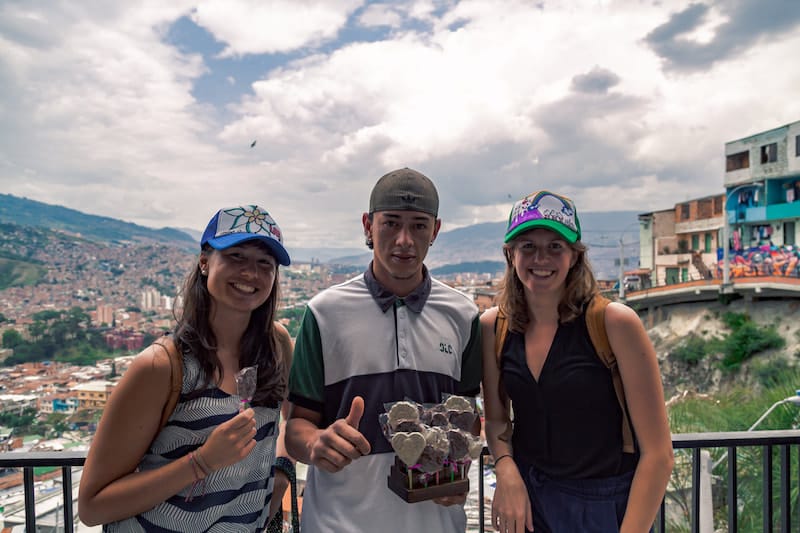 Possible study activities
Visit innovative business centre and incubator Ruta N.
Hands-on activities with community projects and foundations working in line with the UN's 17 Sustainable Development Goals.
Visits to foreign businesses with HQs in Medellin.
​Company visits.
Workshops with Impact Hub – the world's largest network focused on building entrepreneurial communities.
Lectures and presentations with local entrepreneurs and government officials.
Cultural exchanges and workshops with the city's universities. ​
Remember: if you have anything else in mind let us know and we will make it happen.
Popular cultural activities
International Business Trip Colombia Salsa
Coffee farm visit
City tour and visits to communities
Electric bike tour around the city
Sustainable cooking classes
Dance classes and shows – salsa, champeta, tango, merengue
Visit to a traditional flower making farm
Experience a live soccer match.
Enjoy the national sport of tejo – an explosive experience!
Day trip to Guatapé, Santa Fe de Antioquia, Santa Elena.
Eco walks in the natural reserve of Parque Arvi.
Exotic fruit and market tour
Day 1: Arrivals & introduction to the program
Day 2: Award-winning urban development
Day 3: Sustainable business in Medellin
Day 4: Start-up business in Medellin
Day 5: Organic coffee with a social impact
Day 6: Day trip to Guatapé
Day 7: Shaping future business leaders
Flexible bookings
Book now, pay later. Due to changing circumstances we make it easy for you to reserve your educational trip without paying a deposit upfront!.