Spanish Immersion Trip: Colombia
Delivering Positive Change through Language
Truly immerse your students into Colombian life, helping propel their Spanish language skills to a new level. During this trip, they'll discover a vibrant, colorful, and absorbing culture while developing a greater understanding of pressing global issues. Each student will enhance their language skills by interacting with graffiti artists, social leaders, local farmers, salsa dancers and entrepreneurs. They'll will utilize their new abilities to communicate ways they can become exemplary Global Citizens.
Location: Medellin, Guatapé, Cartagena (flexible itineraries available)
Duration: 4 days +
Number of participants: 6+
Cost: From $399 p/p*
Accommodation: Homestay, hostel or hotel – check out our unique homestay experience
Carbon emissions: 225kg of CO2e p/p – we offset 100% of these emissions plus your journey here! See below for more details.
Other locations: Peru, Bolivia, Mexico and Ecuador
Sustainable Development Goals Impacted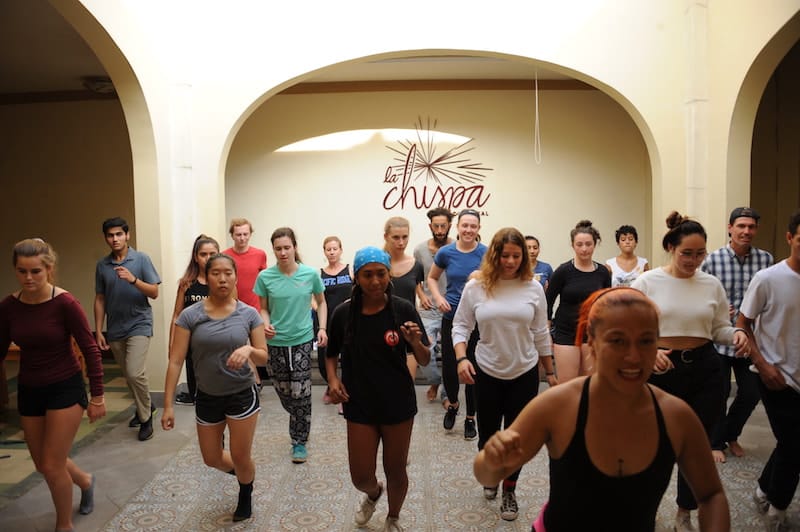 Museum visits – Fernando Botero, Memory Museum, Modern Art Museum
Coffee farm visit and tasting session
Traditional Colombian cooking class
Market challenge and exotic fruit tasting workshop
Dance classes and shows – salsa, champeta, tango, merengue
Enjoy the national sport of tejo – an explosive experience!
Floral wreath making with Medellin's flowermakers
Afro-Colombian drum workshop
Community interview challenge
Mud volcano experience
Day 1: Arrivals & introduction to the program (Medellin)
Day 2: City immersion tour & exotic fruit exhibition (Medellin)
Day 3: Organic farming & sustainable cooking challenge (Medellin)
Day 4: Community transformation tour & mural workshop (Medellin)
Day 5: Urban gardening & sustainable coffee farming (Medellin)
Day 6: Day trip to Guatapé & community challenge
Day 7: Trip to the Caribbean coast & city tour (Cartagena)
Day 8: Afro-Caribbean drum workshop (Cartagena)
Day 9: Mud volcano experience (Cartagena)
Day 10: Departures (Cartagena)
Flexible bookings
Book now, pay later. Due to changing circumstances we make it easy for you to reserve your educational trip without paying a deposit upfront!.